Thank you for your assistance, Michael Max (2023 WRHS Graduate), Kiyaani Binally (2022 WRHS Graduate), and Mrs. Brock's summer school class! Also, check out Michael's and Kiyaani's beautiful mural in Fort Defiance of Navajo Nation Transportation and Ahehee' Shima', along with other great mural artist from the community.

We spent most of our hot summer days painting this wall. Staying hydrated and having a canopy helped a lot from battling the elements. Gary Davis has given us an opportunity to help him out with revamping the murals, to share our creativity within the community. I'm thankful for the opportunity he and the school district has provided for myself and the youth.
Music and Art Festival 2023
Bryan Ben Jr. (top right)

Other participants with art sold: Germaine Deswood (9th Grade), Santana Benallie (9th Grade), and Bré James (11th Grade)
Chamique Bowman, The Ancient One. 2022 student note card at Heard Museum Gift Shop
Mural Project in Media Center
Mural by: Kadence Nofchissey, Wyatt Plante, and Cody Begay

This Mural was an opportunity for the art students and myself to be able to express their creativity and apply our technical skills on a large surface area. Thank you to the administration at Window Rock High School and Window Rock Unified School District for giving us the tools we need to create a mural in our new Media Center at the High School. We began painting on February 15th of 2022. The amount of time we put into the mural was time-consuming, as it covers a large portion of the west wall. The high school students and I painted the mural after school for about 2 hours at a time. As students finished the school year, we finished most of the mural. We needed a border, as well as some touch-ups on the bottom portion of the artwork. So, the upcoming freshmen helped with the touch-up during summer school to complete the mural on June 30 of 2022.

Artist Statement:

The artwork is to represent our identity as 21st Century learners and being able to adapt to new environments and other cultures, as well as keeping our Diné culture alive. Moving forward to personal goals is represented by the figures moving to the right. We read text from right to left, so the figures represent that same path. The blue pattern represents the movement and rhythm that we do on a daily basis. It could be waking up early, greeting the sun, and going to school. It could be practicing for sports or an activity. The mountain and Window Rock are a symbol of location and a sense of direction. We should understand ourselves: physically, mentally, emotionally, and spiritually before taking on life-long challenges. These challenges could be relocating for college, training, and jobs. To have a background and support from our elders and leaders through Diné culture gives us self-realization as we journey through career pathways for our own knowledge. As we gain experience and skills, we can pass that down to our youth and community. Our future is our students! What can we share as parents, grandparents, community members, and educators to ensure the well being of our future? The lower portion of the mural has symbols that represent the tools we can acquire at home, at school, and in our future. At home, we have responsibilities like taking care of livestock, farms, and family. At school, we have teachers to guide our interest in college/career pathways. When completing high school, how will students use these tools to further their interest in making a living and support their family in the 21st Century?
By: WRHS Students- Intro. to Art, Art I, Art II

We were given 10 large potteries here at Window Rock High School to paint different imageries. Students were excited to paint on these massive potteries, just as I was. We began painting the potteries in March 2022, by applying gesso, then a base coat with aerosol or acrylic. This was a project base assignemnts for all classes (intro. to art, art I, art II). The subject was decided among the group of students who painted these potteries. I was excited to see the creativity students would apply these potteries. The challenge most students faced with this project, was painting on a cylindrical surface and working around each other. Another challenge was keeping the subject matter through every class. Overall, we completed the potteries with a variety of different subjects on June 30th 2022 with the help of the upcoming freshmen in summer school.

The potteries are displayed at the Window Rock High School Cafeteria. Take a tour to see the details of each pottery.
Skateboard Art Project by: WRHS Art Students

We received 200 blank skateboard decks at the beginning of 2nd semester and started painting on them in February. Students applied aerosol or acrylic as a base color on the blank decks. Students had to apply a specific subject of their choice to complete the painting. Many of the students put a lot of time and effort into their painting as it would be displayed in a public space and shared. Art I had just begun painting with acrylic, so many of the students who were up for the challenge wanted to paint on the decks. Some students' creativity has sprouted or maybe I just noticed their talent during this project. This is a project I want to continue for the upcoming school years.

Some of the best work will be installed at the Window Rock High School Media Center by the students. A guest artist, who is an alumni of Window Rock High School will have her work displayed there as well. So come by and check out the skateboard art.
Heard Museum Student Art Show/Contest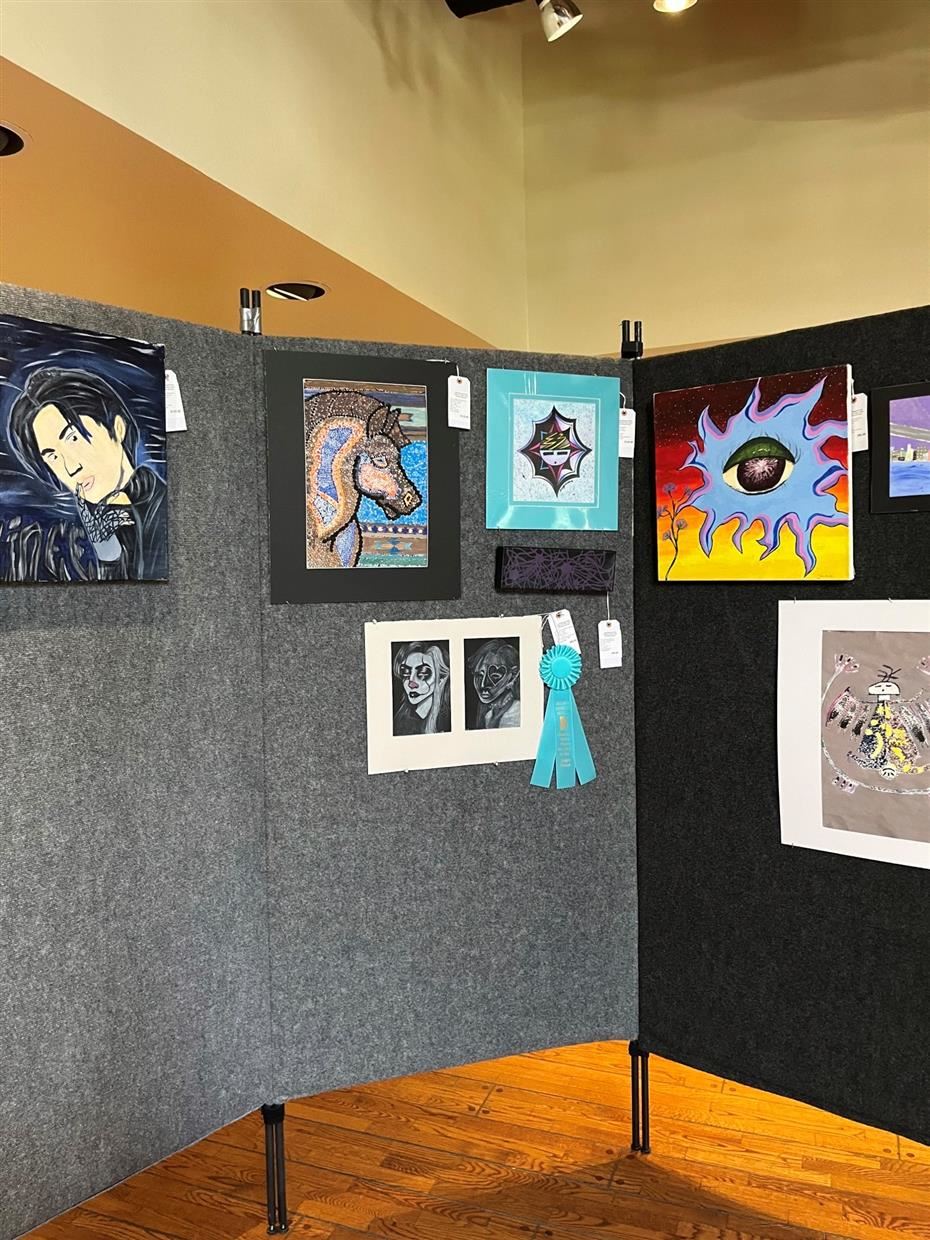 Arizona State Fair Student Art